Australian Visa Application Center for Pre-lodgement Enquires
If your enquiry is related to a pre-lodgement visa application process including how to make an appointment, or for information on the requirements to lodge a visa application, please contact the Australian Visa Application Call Center on 09000 7860 or by mobile phone on short code 9999. The call center operates Monday to Friday from 08:00am to 05:00pm. Calls will be charged at the premium rate of 15 Pakistan Rupees per minute.
Further information about the Australian Visa Application Centers is available at www.australiavisa-pakistan.com.
Visa and Citizenship Section for Post-lodgement Enquiries
The Department of Immigration and Border Protection at the Australian High Commission is only available to answer telephone enquiries relating to applications that are currently under assessment, between 08:30am to 12:00pm Monday to Thursday. The operators are unable to respond to pre-lodgment enquiries if you have not lodged a visa application at the Australian Visa Application Center.
Reforms to modernise Australia's visa processing system
The Australian Government has announced it will enhance the way visa and citizenship services are delivered using the latest digital technologies. For more information visit the Department Immigration and Border Protection's website.
Temporary Activity Visa – Framework Changes
Please note proposed changes to the temporary activity visa framework that are scheduled to come into effect on 19 November 2016, subject to approval by the Governor-General.
The new framework is designed to make the process of applying for a temporary visa or sponsoring an applicant simpler for business, industry and individuals. The proposed changes include changes to visa subclasses for specific short stay activities and introducing the ability to lodge applications online.
Under the proposed new temporary visa framework there would be four temporary activity visa subclasses:
 Temporary Work (Short Stay Specialist) (subclass 400) visa;
 Temporary Work (International Relations) (subclass 403) visa;
 Training (subclass 407) visa; and
 Temporary Activity (subclass 408) visa.
These four visas would come into effect following the:
 removal of the following existing visas - Temporary Work (Long Stay Activity) (subclass 401) and Training and Research (subclass 402);
 restructuring of two existing visas - Temporary Work (Short Stay Activity) (subclass
Further information: http://www.border.gov.au/Trav/Work/temporary-activity-visa-changes#
CITIZENSHIP BY DESCENT APPLICATIONS – AFGHAN NATIONALS
From 1 February 2015, Citizenship by Descent applications for Afghan nationals who reside in Pakistan and Afghanistan will be processed at the Australian Consulate-General in Dubai. Applications can be lodged online by creating an ImmiAccount.
For detailed information on Citizenship, including eligibility, document requirements and how to lodge an online application please refer to the Australian Citizenship website.
Key messages
The Australian Government has introduced its toughest border protection measures ever called Operation Sovereign Borders (OSB).
Under the policy, anyone who comes to Australia illegally by boat without a visa will never be settled in Australia.
The policy applies to everyone: families, children, unaccompanied children, educated and skilled. There are no exceptions to this policy.
The Australian Government's policy is intended to deter people smugglers by denying them a product to sell and prevent tragic deaths at sea.
There are two options for people who travel illegally by boat to Australia:
- they will be intercepted and safely removed from Australian waters; or
- they will be sent to another country for offshore processing.
Processing and resettlement in Australia will never be an option.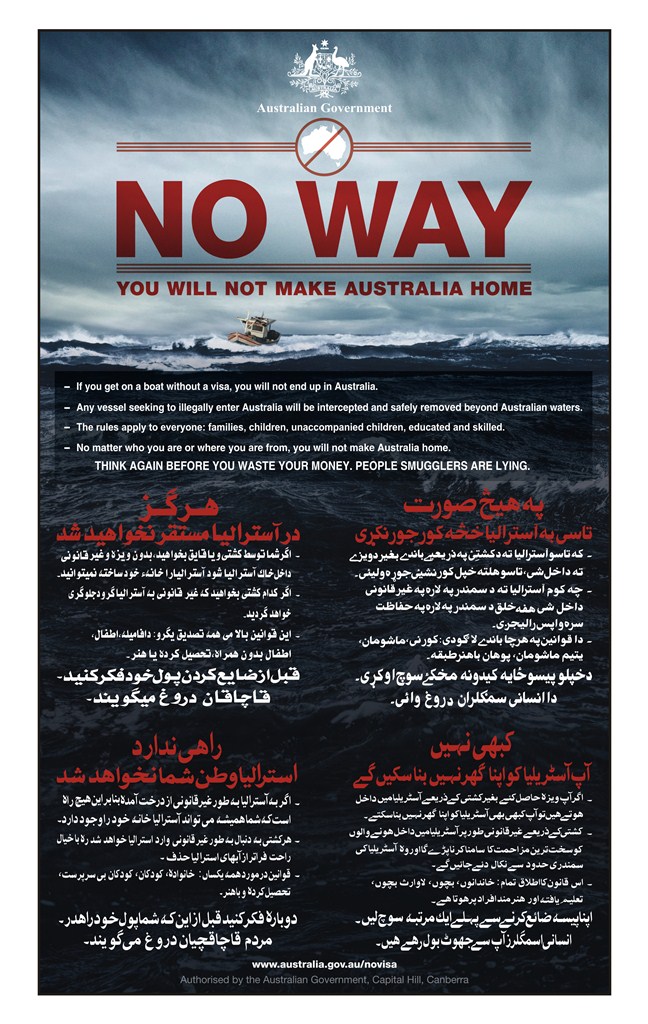 Visa Wizard: a tool to assist in finding suitable visa options
Citizenship Wizard: a tool to assist in finding suitable citizenship options
Client Service Charter: an important document that sets out what you need to know when dealing with us
Compliments and Complaints: explains how compliments, complaints or suggestions about our services can be made
Temporary Visas
Migration Visas
Refugee and Global Special Humanitarian Programs
Refugee & Global Special Humanitarian Visas
Returning Residents
Australian citizenship and citizenship by descent